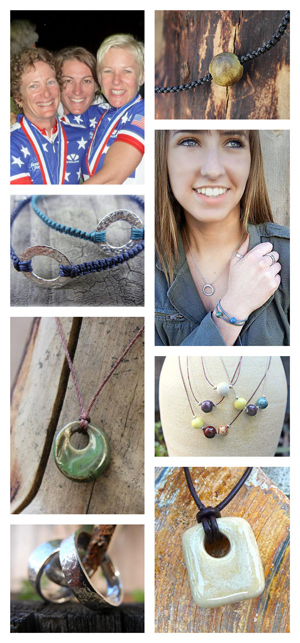 "What we once enjoyed and deeply loved we can never lose, For all that we love deeply becomes a part of us." ~Helen Keller
We'd like to express our deepest sympathy for your loss. We hope as time passes, your smiles will outnumber your tears as your loved one's spirit remains with you, always.
When our amazing friend Michelle went to Heaven, we desired a secure, discreet way to honor her and keep her with us. We designed Sisu Beads memorial jewelry as a tangible way to stay connected. Every Sisu Bead is hand sculpted with love. The cremation ashes are hand mixed with the glaze and fired into the bead. For our fine silver memorial jewelry, the cremation ashes are hand mixed with a fine silver clay and then fired into the silver. We can also make Sisu Beads with a few locks of hair. The hair is mixed with the clay when your bead is sculpted.
If you have any concerns or questions, please feel free to call Gina 619-961-5743
Sincerely,
Gina Barbosa & Julie Steele
They say love beyond the world cannot be separated by it. Death cannot kill what never dies. ~William Penn
Sisu Beads Memorial Jewelry is pleased to share with you our line of memorial jewelry, cremation ash keepsakes and cremation urns. Our hope is to foster a sense of peace and joy. Although our loved ones' bodies may be gone, their spirit is uncompromised. We hope by having their memorial beads with you, together you will still share life's special moments.

Sisu Beads Memorial Jewelry, Cremation Ash Keepsakes, and Cremation Urns are individually hand sculpted. It should be expected that the shape, size, and color of each item will have slightly different characteristics.

Cremation Urns are made without any ash in the glaze. Each urn is an original hand made piece. We post a new image for each urn that we sell. You are viewing the actual urn you will receive. Please contact us if you would like to commission an urn made to your specifications.

We believe your Sisu Bead memorial bead cremation jewelry is so much more than beautiful jewelry. Each cremation bead is handmade with love, and the utmost concern for the dignity and memory of your loved one. The spirit is truly cherished throughout the process. Please contact us if you would like to commission cremation memorial jewelry to your specifications.